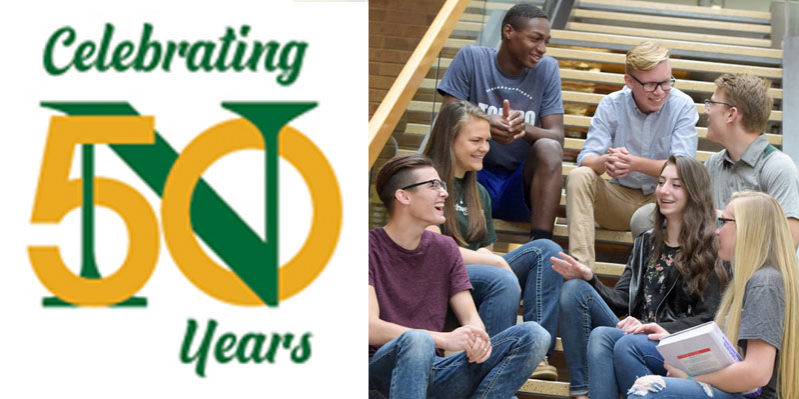 Ask almost any students or graduates and they'll tell you a pretty compelling story of how Northwest State Community College changed their life. How an instructor inspired them. How services, like tutoring and supplemental instruction were instrumental. How their plan to transfer core classes worked perfectly. How NSCC was exactly what they needed it to be.
It's been that way since we opened our doors 50 years ago. It's our mission to serve by providing access to excellent and affordable education, training and services that will improve the lives of individuals and strengthen communities.
Making Dreams a Reality
We've all heard about America's shrinking middle class. These days, how can an average person reach his or her dream? Statistics show that education is the route to a viable economic future.
The U.S. Bureau of Labor Statistics found that as education levels increase, so do median weekly earnings, and the likelihood of being unemployed decreases. According to the Ohio Department of Higher Education, Ohio ranks 38th among the states with only 26% of adults holding a bachelor's degree, compared with a national average of 31%.[1]
Where Dreams Meet the Real World
NSCC is here to serve the community. We're here to provide opportunities for students to reach their goals and to answer the needs of local businesses with an exceptionally qualified workforce.
How do we do that? We bring together advisory committees made up of area leaders who advise us on what they're seeing in their businesses every day, what employees need to know to excel, and what the future holds for students to be competitive. We know what's happening in the real world of business and industry by maintaining these connections. Thus, we use this information to create a better fit between skill sets and jobs.
Additionally, NSCC partners with area high schools to promote early college success and pathways to higher education.
Building Partnerships with Innovation and Flexibility
Northwest State's ability to adapt to a changing work place has opened doors for local people to train for emerging industry. Recognizing the increasing need for advanced manufacturing skills, NSCC has developed a workforce readiness program with area manufacturers in an effort to increase exposure to middle school and high school students.
In the case of middle school students, NSCC STEM faculty are dedicated to creating fun, hands-on learning sessions in our communities. The College also hosts STEM camps each summer for students in grades 5 through 8. For the high school students, there are on-site learning opportunities at area manufacturers such as Automatic Feed, Defiance Metal Products and many others, using STEM curriculum within the College Credit Plus parameters. The students benefit from the free tuition aspect via dual credit (high school and college) CCP coursework, and the employers benefit from working directly with students to help educate and train them, and possibly build a pipeline for a future workforce.
This holistic approach to increasing awareness will ultimately help produce more technical graduates, meet manufacturers' needs and provide a solid transfer path for students looking for additional learning opportunities after their certificate or associate degree.
Community Benefit of Student Success
NSCC students stay and work in our community, rebuilding the local economy one day and one job at a time. Their education enriches their lives and adds to the quality of the community. Of our more than 10,000 graduates, 76% live and work in our six-county service area.
With the majority of our students balancing work, home and scholastics, Northwest State continues to grow and change along with the needs of our students. With flexible scheduling, including online and hybrid (an online and in-person combined learning environment) course options, access to higher education is greater than ever before.
Another area where Northwest State has excelled is working with each student to develop their plan, stick to the plan, and ultimately complete the plan. The NSCC Advising Center team works with first-year students to ensure a smooth on-boarding process, and a positive overall experience while they attend NSCC.
Education is Key
Northwest State Community College will continue to be a leader in education that empowers individuals and communities. As a true 'community' college, Northwest State is focused on improving lives and strengthening communities through the power of education – one student, one family, one community at a time. Our six-county service area includes roughly 192,000 individuals and 77,000 families.