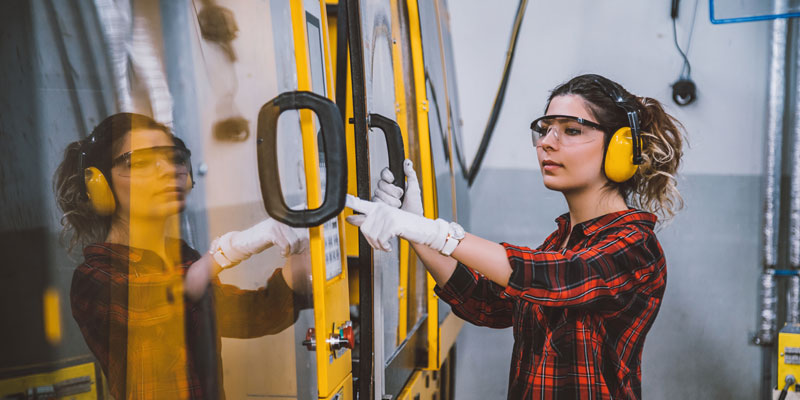 Manufacturing remains a vital part of the northwest Ohio economy, but the need for a skilled workforce continues to be one of the top needs presented by area businesses. Northwest State Community College is at the forefront of the skills gap, developing innovative education and training delivery methods to help keep the manufacturing industry going strong.
Economic Impact
Per the National Association of Manufacturers' 2019 Ohio Manufacturing Facts, "Manufacturers in Ohio account for 16.60% of the total output in the state, employing 12.56% of the workforce." NAM also noted there were 699,000 manufacturing employees in the state in 2018.[1]
NAM also notes that $50.40 billion in manufactured goods were exported by Ohio manufacturers in 2018, and that small businesses comprised 89% of all exporters in Ohio. Manufacturing is one of the backbones of our state's economy, in terms of career opportunity, life-sustaining wages, economic development, and quality of life.
Northwest State Community College has cultivated and developed strong working relationships with the region's manufacturers to understand what their current and future needs are. As a result, the College is a relied-upon resource to help train and upskill individuals in a variety of ways, including the traditional classroom and lab approach at the Archbold and Toledo (UT-Scott Park) facilities, on-site training at the manufacturers' sites, and hybrid learning opportunities (online and in-person learning combined.)
Northwest State provides short-term certificate and two-year degree programs in the academic fields of Industrial Technologies and Science, Technology, Engineering & Math (STEM), as well as great transfer pathways to four-year degrees in numerous manufacturing-related fields. Thanks to partnerships with four-year institutions such as the Miami University, students can pursue certain advanced degrees without having to leave northwest Ohio.
While few could argue the importance of training today's workforce in various aspects of advanced manufacturing, the most commonly-asked questions are "how," "where" and "when." Northwest State has proven flexible in delivering classroom and lab learning outside the College's typical hours of operation, but that was not a solution for every facility.
Enter Custom Training Solutions
"When our region's major employers tell us they need creative, hands-on training solutions that may fall outside the traditional classroom experience, we listen," said Todd Hernandez, Executive Vice President at Northwest State Community College. "Some companies that need to upskill their workforce need us to bring the classroom to them, and that's where Custom Training Solutions comes in. The same great NSCC education, packaged to fit each company's unique needs, and taught by some of the best in the business," Hernandez continued.
Thanks to the flexibility and innovation of Northwest State and Custom Training Solutions, our area manufacturers can reap the benefits of a NSCC education without losing productivity. Individuals interested in studying at Northwest State are invited to call NSCC Admissions at 419.267.1320 or email admissions@NorthwestState.edu. Businesses interested in exploring customized training opportunities are invited to call CTS at 419.267.1332 (Archbold) or 419.267.1493 (Toledo), or visit TrainWithCTS.com.
[1] https://www.nam.org/state-manufacturing-data/2019-ohio-manufacturing-facts/