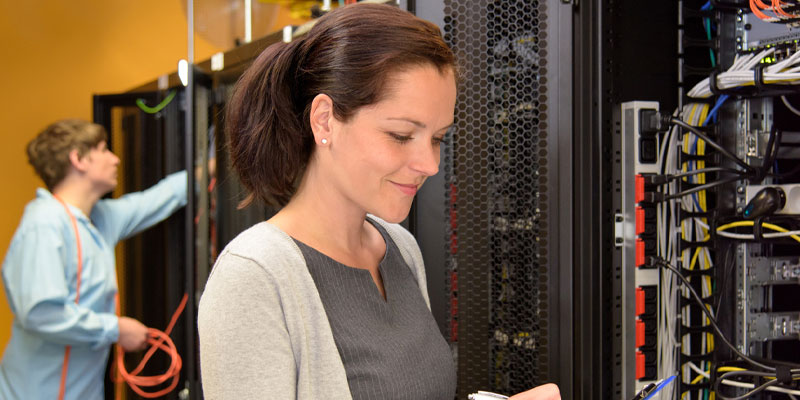 Below is an alphabetical listing of degree and certificate programs offered at Northwest State Community College. All programs are offered at the College's main campus in Archbold, but select classes are also offered at satellite locations in Scott Park (Toledo), Van Wert and online. For more information on the opportunities waiting for you at NSCC, visit NorthwestState.edu. Ready to take the next step? Contact the NSCC Admissions Office at 419.267.1320 or email admissions@NorthwestState.edu.
Arts & Sciences
The Division of Arts & Sciences is responsible for most of the general education core, which are courses, such as composition and algebra, which students may be required to take regardless of their major. Many of the students who pursue an associate degree in the arts or sciences plan on transferring to a four-year college or university to complete a bachelor's degree. Choosing to earn an associate degree at Northwest State gives students a broad-based background in liberal arts that will allow them to meet the general education requirements at most four-year colleges and universities. For more information, please visit NorthwestState.edu/academic-divisions/arts-sciences.
Degree Programs
Associate of Arts
Associate of Science
Transfer Module
Visual Communication-Graphic Design 
Business & Public Services
The Division of Business and Public Services offers a variety majors in the fields of business, criminal justice, human services, and education. Many programs have the option for state licensure or certification. Many graduates from these programs are ready to join the workforce after they earn their diploma. However, there are also opportunities for these graduates to transfer on and earn their bachelor's degree from a four year college or university. For more information, please visit NorthwestState.edu/academic-divisions/business-public-services.
Degree Programs
Accounting*
Agribusiness (pending)
Agronomy
Associate of Arts – Pre-Paralegal Pathway
Banking & Finance**
Business Management*
Criminal Justice
Entrepreneurship**
Human Resource Management**
Human Services
Law Enforcement Academy Option
Logistics & Supply Chain Management**
Marketing**
Office Administration*
Office Administration-Medical Support**
Office Management**
Paraprofessional Education
Pre-Business Administration*
Pre-Kindergarten
*ACBSP Accredited program
**ACBSP Accredited major
Certificate Programs
Accounting Assistant
Law Enforcement Academy
Logistics & Supply Chain Management
Office Assistant
Real Estate
Nursing & Allied Health
The Nursing & Allied Health Division at Northwest State Community College offers nursing and allied health degree and certificate programs that prepare students to meet the rapidly changing demands of the healthcare industry. Students benefit from small class sizes as they work one-on-one with faculty members who are dedicated to inspiring and challenging students. Graduates of the nursing programs are eligible to take the National Council Licensure Exam (NCLEX) and enter directly into the workforce. There are also opportunities to transfer into a four-year degree program at partnering institutions. For more information, please visit NorthwestState.edu/academic-divisions/nursing.
Degree Programs
LPN to RN Advanced Standing Program
Medical Assisting
Registered Nursing
Certificate Programs
Phlebotomy Technician Short-Term Certificate
Practical Nursing
Northwest Ohio Allied Health Consortium
Health Information Technician (Coding & Reimbursement or Clinical Health Informatics)
Medical Laboratory Technician
Occupational Therapy Assistant
Radiographic Imaging
Respiratory Care Practitioner
Science, Technology, Engineering Technology & Math (STEM) and Industrial Technologies
The STEM & Industrial Technologies Division offers a variety of majors in the science, technology, engineering, and mathematics fields, housing the transfer courses in mathematics and natural sciences, as well as the engineering technology degrees in alternative energy, CAD/CAM, computer science, electrical, mechanical, and plastics engineering Technology. Students that graduate from the STEM fields are critical thinkers and problem solvers who will provide the innovation that leads to new products and processes that sustain our economy.  Most jobs of the future will require a basic understanding and application of math and science, as noted by the U.S. Department of Labor, indicating 15 of the 20 fastest growing occupations require significant mathematics or science preparation. While graduates of these programs are ready to join the workforce, many choose to transfer and earn their bachelor's degree in the STEM fields from various colleges and universities. For more information, please visit NorthwestState.edu/academic-divisions/engineering-math-science-technologies.
Degree Programs
CAD/CAM
Computer Programming
Computer Science Engineering Technology
Cybersecurity & Network Administration
Electrical Engineering Technology
Electro-Mechanical Engineering Technology
Industrial Technologies
Maintenance Technician/Mechatronics
Mechanical Engineering Technology
Mechanical Engineering Technology – Plastics
Project Management Technology
Certificate Programs
CNC Operations Short-Term Certificate
Computer-Aided Design
Computer Technician
Cybersecurity Short-Term Certificate
HVAC-R Climate Control
Industrial Automation Maintenance Short-Term Certificate
Industrial Electrical
Industrial Maintenance
IT Specialist Short-Term Certificate
Machining
Manufacturing Foundations (pending)
Millwright
Plastics Manufacturing
Programmable Controller (PLC)
Quality Control
Welding Short-Term Certificate
Gainful employment information for NSCC's certificate programs can be found online at NorthwestState.edu/financial-aid/gainful-employment. Gainful employment information includes: estimated cost of the program, average student loan debt and types of jobs available.