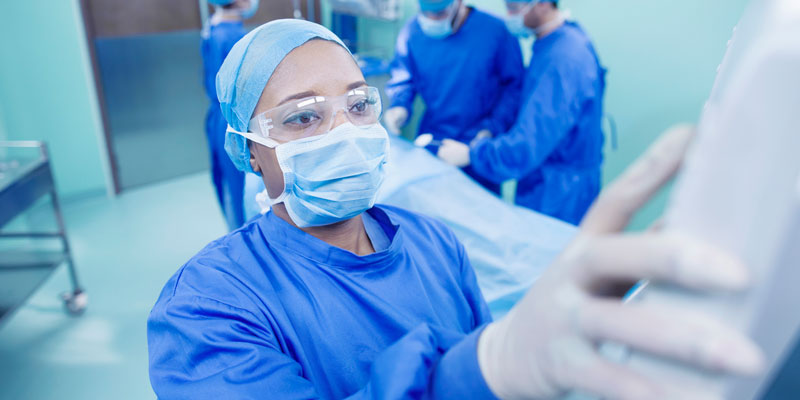 Everyone knows that career opportunities in healthcare are booming. Between 2018 to 2028 the employment of healthcare occupations was expected to rise by 14 percent according to the Bureau of Labor Statistics. In 2017 the CDC last reported 18 million healthcare workers, as of Jan. 2019 the BLS projected 18% growth by 2026.
Hospitals, ambulatory centers and physicians' offices are leading hiring. From technicians to those on the front line of patient care, opportunities in healthcare abound and many in-demand, well-paying healthcare careers require just two years of college to get started. Northwest State is ready for you! According to MarketWatch, postings for work at hospitals and other health-care jobs have also risen. Unemployment in the industry is already at a record low of 2% and there's not a very large pool of qualified candidates for hire. These jobs also require more skill and often involve licensing requirements.
Aging Population
The demand for new healthcare professionals is being driven by a generational changing of the guard. The Baby Boomer generation is aging and they need more healthcare services. In 2018 the World Health Organization reported that by 2050, the world's population aged 60 years and older is expected to total 2 billion, up from 900 million in 2015. By 2050, there will be almost 120 million living in China alone, and 434 million people in this age group worldwide. A huge number of healthcare professionals are also at retirement age themselves, creating enormous demand for replacements.
Career Options
People are also living longer and leading more active lives, so the kinds of healthcare services offered are also changing. Increased focus on preventing illness and educating the public about healthy living has boosted the importance of some traditional roles at clinics, hospitals and other healthcare facilities.
Healthcare offers a wide variety of careers from which to choose, with many requiring a two-year degree or less.
Allied Health Careers
Allied Health careers provide the opportunity for individuals to work directly with patients on a daily basis or provide technical support. These careers include medical assistant, health unit coordinator, medical lab technician, and phlebotomist to name a few. These careers are often a launch pad toward additional future healthcare career goals.
Nursing Careers
Nursing careers include Licensed Practical Nurses (LPN) to Registered Nurses (RN), and the NSCC nursing program is highly-ranked both in Ohio and nationally for its graduates' National Council Licensure Examination (NCLEX) passage rates, which means we do a great job preparing our students for future success.
Some savvy students take a strategic career path – first earning their associate degree, taking (and passing) their RN exam and then working in the field while pursuing a bachelor's degree. Whatever the healthcare path, a community college education can ensure a successful beginning.
Allied Health & Nursing Career Outlook
Always ready to help? Fascinated with the science and technology of healthcare? Whether it's about promoting health or treating disease, careers in allied health and nursing require a combination of skill and compassion. Get your start today at Northwest State Community College.
ALLIED HEALTH
Medical Assistant
OH Median Hourly Wage: $15.89
OH Median Yearly Wage: $33,060
Potential Career Paths: Medical Assistant
Phlebotomy 
OH Median Hourly Wage: $16.71 
OH Median Yearly Wage: $34,760  
Potential Career Paths: Phlebotomist

NURSING
Practical Nursing 
OH Median Hourly Wage: $21.64 
OH Median Yearly Wage: $45,020  
Potential Career Paths: Licensed Practical Nurse
Registered Nursing  
OH Median Hourly Wage: $32.80   
OH Median Yearly Wage: $68,220  
Potential Career Paths: Registered Nurse
Source: Bureau of Labor Statistics